Project X Shafts
Product
Qty in Cart
Quantity
Price
Subtotal
Adding your products to cart
The Best Project X Shafts
Our Project X Shafts are there to help you outperform your competition. These handcrafted golfing shafts are like none-other offering reliability, strength, and power to your every stroke. Project X Shafts come in a variety of material types to help your golfing game during each round. If you are looking for more consistent carry distances and shots Project X shafts are just what you need. They build the perfect golf shaft by using Iso-6, a revolutionary material that is 75% symmetric as steel, better than the average 35%. Project X Shafts are available in woods, Hybrids or Irons to go with all the various golfer's games. Customize your golf clubs with these fantastic handcrafted shafts. Picking the right golf shaft is crucial in maximizing your golf game with distance and accuracy. These shafts deliver:
More power behind the ball
Accuracy to the hole
More Distance in your game
Project X Shafts are the perfect combination of weight and design. Project X shafts work because their designers made them based on the analysis of many golfers swings. To make the perfect golf club, you need to understand the physics behind the shaft and its purpose. They create the ideal transfer of energy from the swing to the ball. A golfer can not only feel this fantastic technology by holding the shaft but can see this as well.
Project X Drivers
Looking for Project X Drivers? Well, look no further than right here.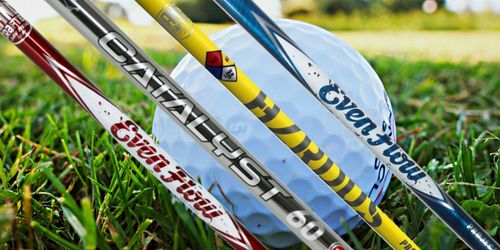 We offer the Project X shafts in a variety of materials such as Project X Hybrids and Project X Irons. Everyone plays the game a little differently. Ensure you have the right club for your style of golf. Should you need assistance, we are glad to help. Finding that perfect Project X Driver is about having fun and enjoying the game. The folks over at Project X take their golf shaft building game very seriously. They figure out the physics behind what the materials capabilities are and use them to your advantage. Having the perfect golf game is the best feeling the world. A great game is achievable by using these handcrafted shafts. They study and document how the materials will react to impact. These studies are what allow them to understand how to make the perfect golf-shaft. The engineers' research, learn and test so you can have the best game of your life.
Project X Hybrids
The Project X Hybrids are some of the best in their class. These are more for the aggressive golfer and deliver longer distances without sacrificing control. The various styles and designs offer increased stiffness down the entire length of the shaft. They provide a low spin and launch profile to keep you in control of the ball. Project X Shafts have a robust flow of energy that is smooth while delivering some serious distance.
Project X Irons
Project X Irons, are some of the most well-studied Irons around. Players love Project X Irons because they deliver maximum shaft load during the downswing. The shaft load allows for better transfer of energy to the ball. In simple terms, these will accurately make your ball fly far with ease. And, that's pretty much what most players desire. Will they help me get better at the game? Yes, Project X Shafts are built to help you with your golf game